---
Thinking of Buying a Small Business in New Jersey?
Buying a small business is a big decision. There is a variety of factors that must be considered as well as a great deal of information to gather and analyze. Unless you've been through the process before, you will most likely have a lot of questions: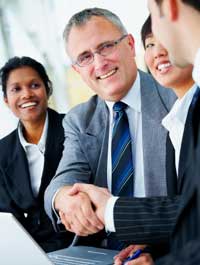 What type of business venture is right for me?
Should I consider buying a small business or a mid-sized company?
Is New Jersey the right state to buy that business?
Once I decide on the type of business, how do I know the one I would like to buy is a good overall investment?
What advantages are there in buying a franchise over a small, thriving business?
Because buying a business involves many factors and some risks, you will want to work with professionals who understand the process. Sunbelt Business Brokers can help you answer all the questions you may have about buying a small business. Call Sunbelt Business Brokers today to schedule a no obligation consultation to discuss your business buying interests in NJ.
Sunbelt Business Brokers in NJ has the Expertise You Need to Make a Smart Purchase Decision
Before Sunbelt Business Brokers recommends a small business to a potential buyer, we take a great amount of effort to analyze its accounting records and marketing plan as well as the competency and effectiveness of the company's employees. All the information we gather during this evaluation process is used to determine whether or not a business is viable and successful. Our assessment is so rigorous we are confident you will gain greater focus and assurance in any purchase decision you make.
Sunbelt Business Brokers is expert at analyzing potential businesses that are for sale. Our staff is extremely qualified to help you buy the small business of your dreams. We have a Certified Public Accountant on staff as well as individuals with backgrounds in banking and finance. Our track record is demonstrated in the over 300 deals we've successfully brokered for people who were interested in buying or selling a business. Our reputation depends upon you having a successful transaction. We walk our clients through the entire process from determining the type and location of the business to working with your team of accountants and attorneys to finalize the deal.
For more information, refer to the numerous articles we have on buying a small business in New Jersey.
What Steps Should You Take Before Buying a
Small or Mid-Sized Business in NJ?
There are basic steps to successfully accomplishing any process. Here are some you should take before buying a small or mid-sized business:
Determine the type of business best suited to your financial and lifestyle expectations. Because there are a wide variety of businesses for sale, Sunbelt Business Brokers can help reduce the stress and aggravation by narrowing down the options to those that meet your requirements.


Evaluate the basic information your Sunbelt Business Broker has provided on the businesses that sound interesting to you.


Visit the business (if possible) without identifying yourself as a buyer to get a "feel" for the operation including its location, facility, and employees.


Make arrangements through your Sunbelt Business Broker to meet with the seller and ask questions about the history, direction and operation of the business.


Conduct a preliminary evaluation of the information the seller provided your Sunbelt Business Broker as well as the details you gathered during your initial meeting with the seller.


Make an offer, assuming all of the information you have been given is correct. The offer should include contingencies that allow you to confirm all the information originally provided.


Negotiate the price and terms of the purchase through your Sunbelt Business Broker.


Once a purchase price is agreed upon, conduct a thorough investigation of the business (otherwise referred to as due diligence) to confirm your satisfaction with the validity of the purchase price.


Have your attorney prepare documents for the closing.


Close the purchase and begin your first day as owner of your business.
Contact Sunbelt Business Brokers today, to initiate the buying process and start on your way to owning an American Dream.